Dongguan Factory Test Equipment High low Temperature Rapid Change Cycling Testing Chamber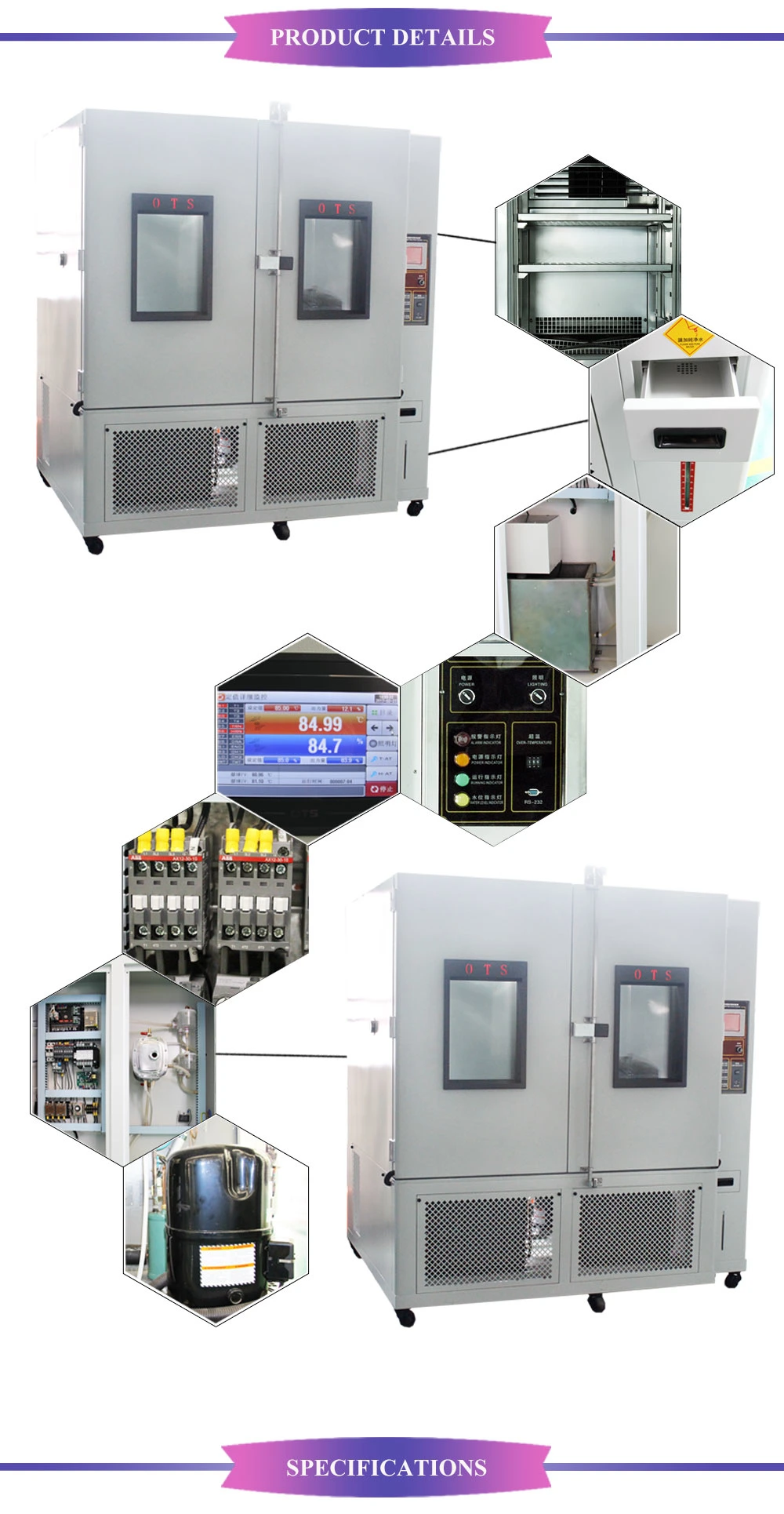 Introduction:
Rapid Rate Change Temperature Test Chamber is widely applied for quality inspection for all types of electric products, electric appliance, and products from communication, instrument, automobile, plastic, metal, food, chemical, building materials, medical and aerospace industries by constant high low temperature change, damp heat etc environment simulation reliability test.
Specification:
Model
XB-OTS-225C-B
XB-OTS-408C-B
XB-OTS-800C-B
XB-OTS-1000C-B
Working Chamber Volume(L)
225
408
800
1000
TempRateof
Change( ºC/Min)
3-20ºC/Min
Performance
-70ºC~+100ºC
Rapid Temp Change -55ºC~+85ºC Full Linear Control
Humidity
±0.5ºC
Temp
±3.0ºC
Exterior
Cold-rolled steel sheet (Rust proof & Plastic Spray treated ) Stainless Steel
Interior
Stainless Steel Plate(SUS 304)
Insulation
Rigid Polyurethane Foam
Safety
Over pressure,over heat and over current protection for compressor,over temp.Protection,
Compress
Semi-Hermetic Compressor
Cooling
Water Cooled
Control
Balanced Temperature & Humidity Control System(BTC type)
Heater
Iron-chrome wire heater
Blower
Centrifugal Blower
Observatio
Glass incorporating heat generator
Temp
Pt-100
Controller
Touch screen programmable controller
Ambient
+5ºC~+35ºC
Power
AC 380V/50Hz 3phase 5 wires+ Ground wire
Note:1.We reserve the right to change specifications without prior notice 2.Customized sizes and configurations available
Features:
1.Reasonable structural design, rapid cooling rate.
2.Imported refrigeration system, internal with SUS#304 high temperature resistant stainless steel.
3.More than 30% energy saving is achieved.
4.The test specimen can be easily observed via observation window,
5.Easy to Operate, install and maintain.
6.Ational Construction and fast cooling rate
7.Frequency conversion control of wind speed.
8.Adopts international brand of imported parts for cooling system to improve operation reliability
9.Touch screen controller, friendly Man-Machine interface and safety device to ensure simple operation and easy maintenance.
10.Standards Implemented and met
11.GB10592-89 Technical requirements for high and low temperature test chamber
12.GB2423.1-1989 Low temperature test
13.GB2423.2-1989 High temperature test mode
Standard:
GB/Bb T2423.2-89 high temperature test method GB2423.1-89 test A:Low temperature test method 6
Ab IEC60068-2-1 low temperature test method GJB150.4-1986 test at low temperature
EIA - 364-59 test at low temperature IEC60068-2-38 temperature cycle
IEC60068-2-78 constant temperature IEC60068-2-30 temperature cycle
EIA - 364-31C temp resistance GB/T2423.3 constant heat test method
Certificate:
Global safety design, use our chambers safely and with peace of mind for many years to come.
We deliver chambers that conform to international safety standards.
Our chambers conform to ISO risk assessment as well as global safety design electrical safety standards such as CE marking and EMC directive.
The production process of the test chambers :
Our Services:
We are here to help you.Services available:
Replacement manuals
Consumables and replacement parts
On-site maintenance and repair
Warranty support
Over-the-phone service support and advice
If you have an OTS chamber , we will do our best to help you in whatever way we can.
Manuals:PDF files of manuals for current models are available free.Please contact us to request a copy.Older and printed copies at additional charge.
Service repair:We prefer you contact us direct at the factory with any problems you may be experiencing.We help diagnose the problem, arrange for any needed parts, and schedule a technician to do the repairs.Rarely can a local contractor get all that done for you as quickly as we can.We also guarantee the work .
Our Company
OTS (Overall Testing System)
Was established in 1978, with 35 years' history
With 30,000 square meter salable production base and 120 employees
Is one of the leading companies solely dedicated to manufacture of
Environmental Simulation Test Chambers ,Physical Testing Equipment .
(such as constant temperature and humidity chambers, environmental chambers, climatic test chambers, rain and dust test chambers,thermal shock test chambers,fast change rate chambers, salt spray chamber,UV test chambers,walk in test chambers and other special customized test chambers ;Tensile testing machine, vibration test machine ,carton compression testing machines, bursting strength testing machine etc.) ..
OTS has the equipment and expertise, with own R&D and consultant team, to meet and exceed your testing requirement.With offices in unrivaled quality advantage, dynamic management team with superb manufacturing process,also the quality with the world norms:ISO , ASTM, DIN, EN, GB, BS, JIS, ANSI, UL,CE, TAPPI, AATCC, IEC, VDE...
FAQ:
Q1 :Can you customize the product?
A:Yes, we can customize any products according to requirements.Hot selling lab electronic temperature humidity cabinet/Environmental climate test chamber also can be customized.
Q2 :How to choose the most suitable products?
A:Our professional team will give you the best suggestion,just be patiently to tell us the information about the parameters your required.
Q3 :Can you arrange installations and commissioning in our lab?
A:Firstly, for standard chamber we had 3-5 days commissioning before shipping , you just need link power in your lab, then can start to operate
Secondly;We had detailed operation manual with chamber , any problems you can find and solve in it
Thirdly, some of customized chambers we should to install and teach your team to operate .