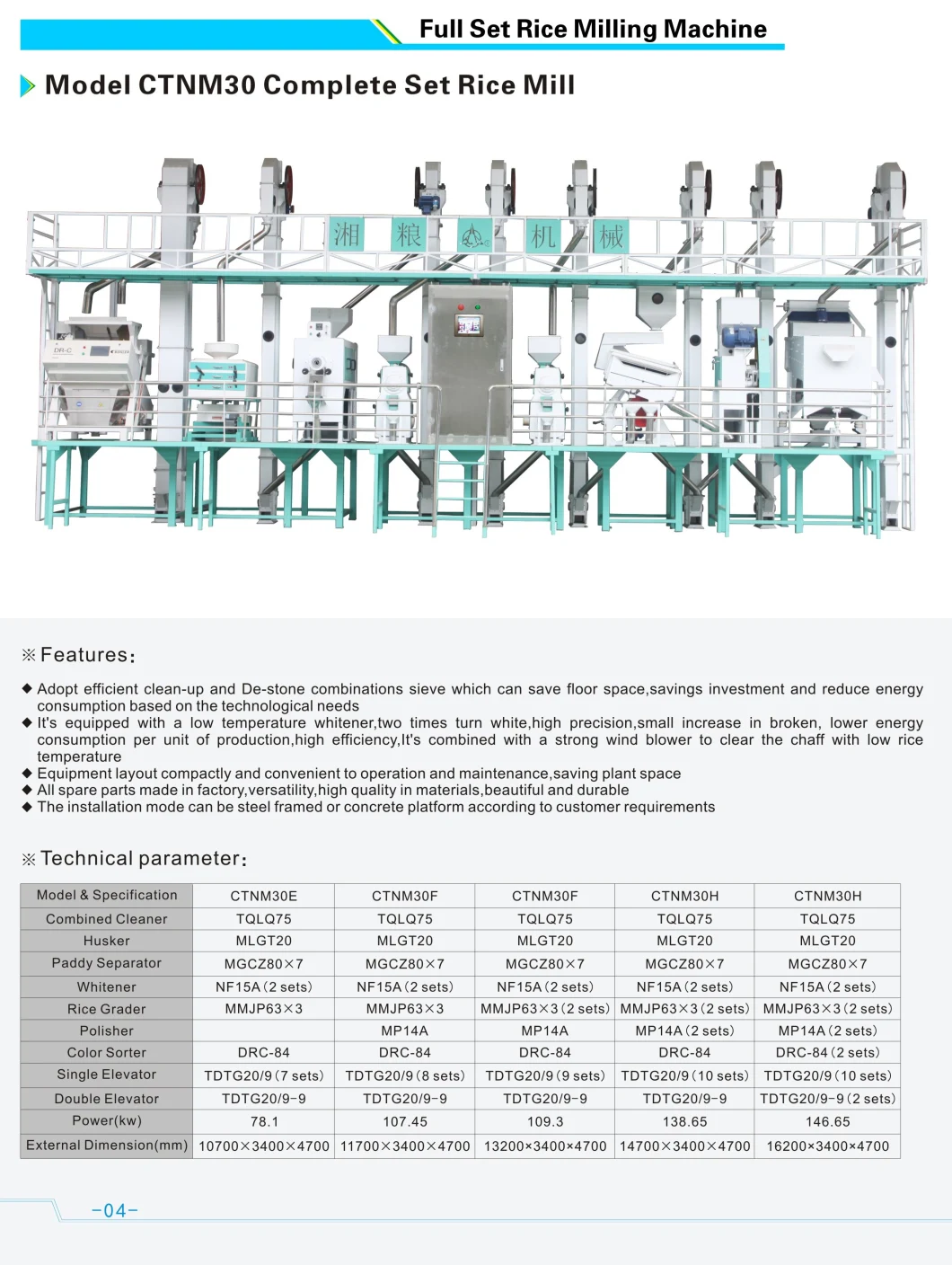 Model CTNM30 Complete set Rice Mill
Features:
*It's used for combined cleaner,good craft,de-stones drastically,lower energy consumption,less investment.
*Husking rate of husker is high,less broken rice,convenient operation,little noise.
*It adopts our company's feature whitener-model 15A,high milled rice rate,less broken rice.Milled rice rate is higher 2% than the
same kinds of products. Precision is higher half grade than other same manufacturers,
it also can choose model 14 whitener to match.
*It fully adopts national standard materials,long using life. Fault rate is small.
Craft performance is steady and reliable.
*It adopts steel frame platform.Structure is compact and reasonable.
It has not only good appearance,but convenient operation and maintenance,
simple installation,it has serial models of 30B,30C, and it has convenient craft to
add subsequent machines to improve high grade rice.
Technical parameter:
Model&Specification

CTNM30B

CTNM30C

Capacity(t/d)

30

30

Cleaner&De-stoner

TQLQ75

TQLQ75

Husker

MLGT20

MLGT20

Paddy Separator

MGCZ80x7

MGCZ80x7

Whitener

NF15A(2sets)
or NF15A NF15A
NF15A(2sets)
or NF15A NF15A

Rice Grader

MMJP63x3

MMJP63x3

Polisher

MP14A

Power(kw)

59.65 or 61.85

95.9 or 98.1

External Dimension(mm)

9000x3500x5000mm

11000x3500x5000mm